Thank you! Without your support and constructive feedback, we wouldn't be here. Based on all of the excellent feedback we have received, we have made Prönö even better. 
We are happy to tell you about the new features that have been created to make Prönö more meaningful for you and all your fellow prönös. And of course we are glad that some small bugs have been tackled in the past weeks. 
Show more about you and what you have to offer. Bring your most important links to your Prönö profile.
Your Prönö profile page is the place to show what value you can bring to other prönös, for example how you could help them. (And of course also show your dreams, values and more.) We also have a new feature – you can now add your most important links to external sites (such as your CV, portfolio, and social media). That makes those easily available for other curious prönös. 
If you have written a book, are organizing online courses, have been mentioned in the media or are selling something special, now you have a place to show it – just add it to your profile. What an easy way to make your special things visible! 😊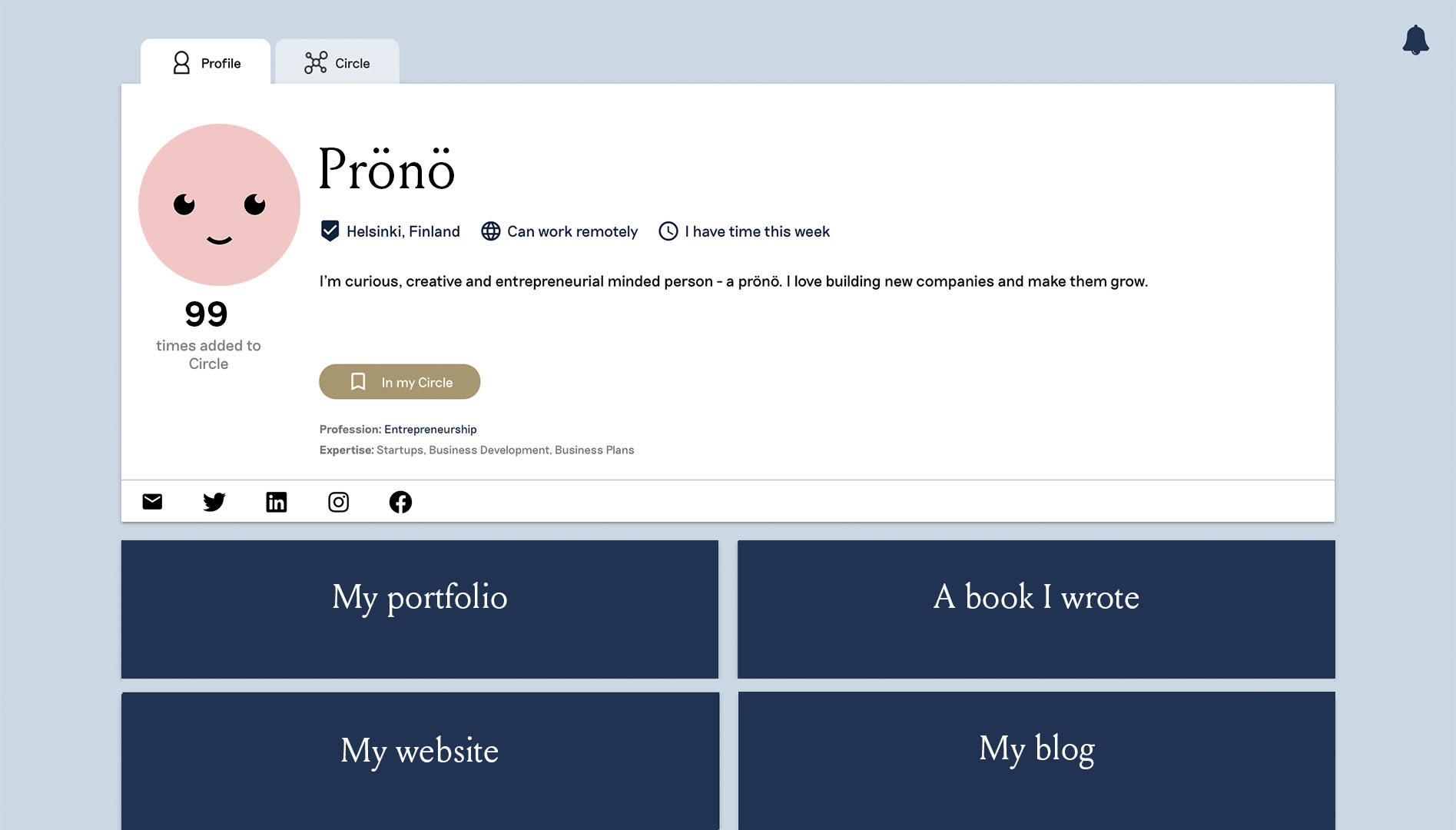 A small step forward to improve the World – New Prönö badges: sustainability, diversity & inclusion and equality. 
If you care about sustainability, diversity & inclusion and/or equality, we have good news for you. 
We have a new badge system that lets you show if you are interested in making improvements in those areas. Prönös can add badges to their profiles, and they're visible so other prönös can see who is pulling in the same direction. 
We believe that people and companies who care about these areas should be able to find each other and to work and buy from people and companies with the same goals. This way we can make change faster – together. 
This means that you can also utilize these badges in decision making.
These are key areas that are important for Prönö as a company, and we want the Prönö platform to be the place where people who want to make progress happen in these fields can show it. Prönö is where change gets done!
Some minor bugs have been fixed also, and here are some of the most important improvements that will help all users to utilize all Prönö features. 
Did you know you can contact all prönös from their profile page?
You can contact other prönös easily from their profile page. Just click the email icon and copy the prönö's email. You are not forced to use email apps anymore, but it is an option of course 🙂 
Seek help and explain when and what kind of help is needed
Now you can be more specific about what kind of help you are looking for on the Help Hub. You can indicate how urgently you need help and write more detailed information about your problem or needs. 
The Prönö assistant is back
…and helping on the platform! The assistant guides every user through onboarding and is now also ready to help on the platform as well. For now, you can find the smiling Prönö assistant on the Help section. (If you have trouble finding it, try emptying your browser's cache.)
Both bring you here: prönö.fi & prono.fi 
Thanks for the feedback! We are glad to announce our domain issues have been resolved. For some people, www.prönö.fi was not leading to this site. Glad to see that now you all have found your way here. 😉
And much more!
Many bugs and data gathering issues have been addressed, along with some smaller fixes as well. But if you have anything on your mind, we would love to hear about it. So, head to the feedback site and share your prönölicious thoughts or improvement ideas.  
The first feedback result: Onboarding was easy for prönös. 
Before the hard launch we want to improve all aspects of the platform, so we asked for user feedback to find out how we can improve the onboarding process. The results were great in many ways – more than 75% of the respondents were satisfied with the onboarding – but what's more important is the great number of qualitative responses. Thank you!
DO YOU WANT TO GET IN WHEN WE HAVE OUR HARD LAUNCH?
The beta phase is all about improvements, and after that, we can start the journey with a huge number of new prönös. Do you want to be one of us?
Not on Prönö or our waiting list? Type in your email address and join the journey. We will let you in as soon as possible. 💙